---
Jumper Maybach Fine Art Gallery and Emporium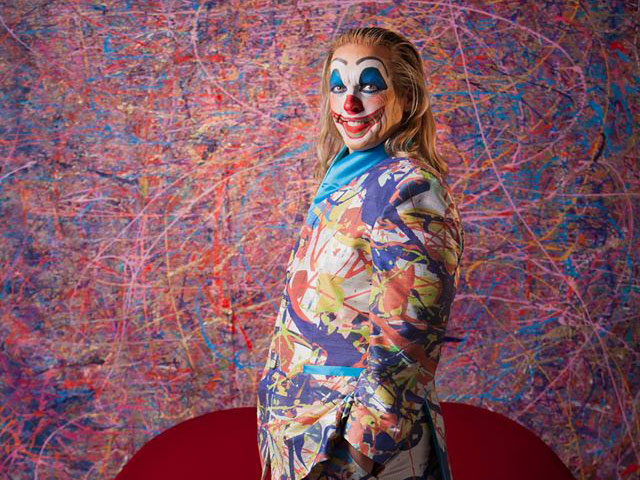 Leap into a world of vivid color, beautiful eccentricity, and positive vibes at the Jumper Maybach Fine Art Gallery and Emporium. Here in "The Tent" on the famously funky 19th Street in the historic Houston Heights, clown extraordinaire and contemporary artist Jumper Maybach seeks to foster love, peace, and personal transformation through his art and exclusive merchandise.
Maybach undergoes his own transformation each time he picks up the paintbrush. Born Ben Earl Workman, he drew inspiration from his grandfather who donned the makeup and red nose many times during his 25 years as a volunteer clown for charities.
As Ben taps into his joys and pains, Jumper brings them to life on the canvas, creating deeply affecting works that connect with patrons in a special way. Maybach's signature style - a self-taught mix of pop art and abstract expressionism - results in truly unique giclées, which are limited edition and each individually serial-numbered to make them even more special.
In addition to being a fixture in the Houston art scene, Maybach's works have been showcased from Austria and Dubai to France, Spain, and Italy. His collections include such care-free themes as the nostalgic Cotton Candy Series, the vibrant Nature Series, and the playful Metro Man Series. But the bulk of his works fall squarely in the abstract category, carefully composed explosions of color and form that leave it to the beholder to define the meaning for themselves.
Maybach's extensive forays into abstract art have ultimately led him into the world of fashion and home decor. Fans can now display to the world those signature Maybach stylings through t-shirts, a line of vases, and custom-made jewelry. As for Jumper himself, the art gallery is hardly the only place to find him. Whether he's serving as the VIP artist of Houston Press' Artopia, hosting a live painting session at San Antonio's National Coming Out Day, or showcasing his paintings at Celebration Seabrook, Maybach is one of Texas' most in-demand artists. In fact, he is the star of The Jumper Maybach Story, currently screening to rave reviews at film festivals around the globe. To find out more about the film, visit jumpermaybachmovie.com.
Workman believes art has the power to help end bullying and intolerance forever, and he is a man - or rather, two men - on a mission to achieve that goal. Visit the Jumper Maybach Fine Art Gallery and Emporium today and see how this outstanding artist and entertainer is changing the world, one brushstroke at a time.
---
---
Jumper Maybach Fine Art Gallery and Emporium
238 W 19th St
Houston, TX 77008
832.523.4249
www.jumpermaybach.com/