---
Giddings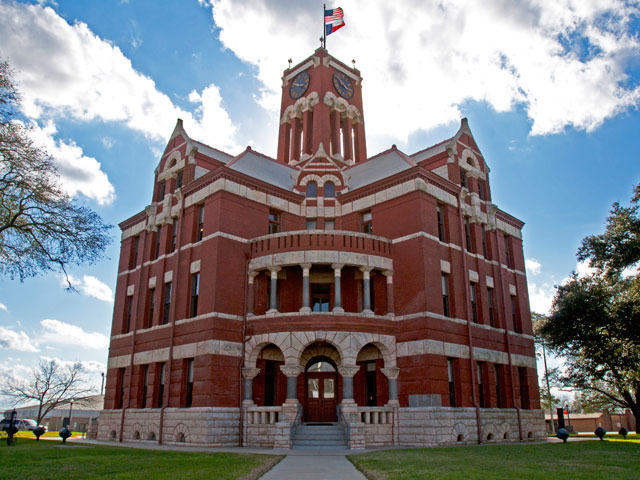 Discover a quaint downtown while admiring eye-catching murals, browse antique shops full of fascinating pieces, and uncover a little-known piece of Texas history when you visit the town of Giddings. Perched on the rolling green hills of Central Texas, the perfect halfway point between Houston and Austin, Giddings offers small-town charm and interesting architecture, all less than an hour's drive of three picturesque state parks.
A large variety of restaurants for the traveler, historic spots, and attractive city parks all add up to a place that is not to be overlooked. If you're looking for a convenient escape from the rush of the big city, or you want to get out and savor the hometown hospitality of rural Texas, plan your next trip to Giddings. Drop by our Visitor's Center to find our more information.
Giddings traces its roots all the way back to the Texas Revolution in 1836. It was named after Texas soldier Giles Giddings, who was mortally wounded fighting in the Battle of San Jacinto. When Giddings passed away, General Sam Houston awarded him a league of land to honor his sacrifice. Giddings' brother, Jabez Deming (J.D.), claimed the land in place of his deceased brother, and worked to ensure the railroad would route through the land as it connected Austin and Houston. A depot was built, and a small town flourished around it. Giddings was first settled by Germans, Jews, and Wends, a small group of Slavic people from Lusatia in eastern Germany. The town is one of the few places settled by the Wends in significant numbers, making it the center for Wendish heritage in the Lone Star State.
The town's history with the railroad, and its Wendish culture, live on in Giddings today. Visit the Lee County Museum to learn about Giddings' railroad history and the rural communities of Texas. The Lee County Museum is located inside the Schubert-Fletcher House, a lovely two-story white house built by August Schubert in 1879 for his wife and 10 children. Then stop by the Wendish Heritage Museum in historic Serbin, where you'll discover the history of the Wends through the museum's displays of artifacts from Lusatia. Serbin is home to another site that must be seen: St. Paul's Lutheran Church. Build in 1870, St. Paul's is a captivating example of Wendish architecture and one of the Painted Churches of Texas.
Giddings' heritage is also celebrated during the Annual Wendish Fest, held on the fourth Sunday each September. During the festival, you'll learn how to paint intricate Wendish Easter eggs and make sauerkraut and sausage. No matter when you visit Giddings, you'll find an abundance of fun events. Every third weekend in May is the Lee County Fair and Rodeo, featuring the Charcoal Challenge BBQ cookoff, live music, carnival & Ferris wheel, and the exciting bronco riders at the Giddings Rodeo. The Lee County Sheriff's Posse puts on other fun events throughout the year in Giddings like Championship Bull Riding every Fourth of July.
There's plenty more going on in Giddings beyond its history, heritage, and lineup of events. Marvel at the red-brick walls and distinctive clock tower of the 1899 Lee County Courthouse and the pointed spire of the 1876 First Presbyterian Church before traversing downtown Giddings in search of vibrant murals. Giddings also sits within an hour of five state parks and historic sites (Bastrop State Park, Buescher State Park, Monument Hill State Park, Nails Creek State Park, and Lake Somerville State Park & Trailway). Each park offers hiking and biking trails, places to camp, forests to traverse, and top-class fishing to enjoy.
For history and culture, outdoor activities and sports, antiques and other shops, and quaint hometown restaurants you'll find plenty to love about Giddings.
---
---