---
Madisonville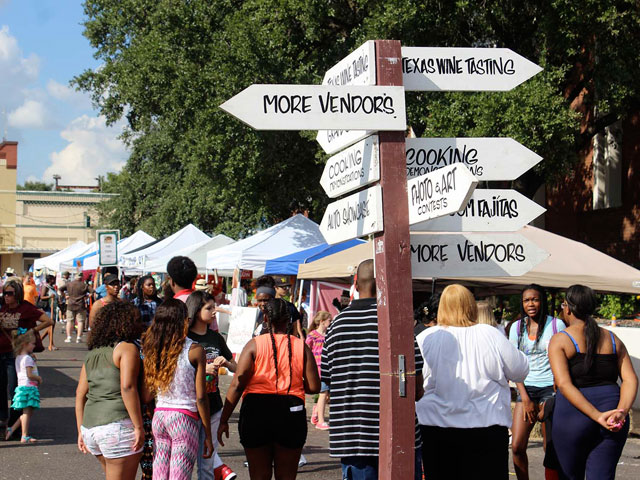 Known as the "Mushroom Capital of Texas," Madisonville is a small but lively community about 40 miles northeast of College Station. When you visit you'll find charming lodgings, lovely outdoor venues, down-home eateries, and friendly locals welcoming you to explore and enjoy their town. Madisonville was named in honor of the fourth president, James Madison. Its nickname, however, derives from the presence of a Monterey Mushrooms facility, and - as most people know it - its hosting of the Texas Mushroom Festival. On this fun-filled day in October, locals celebrate all things related to this famous fungus: mushroom fajitas, cooking demonstrations starring mushrooms, and even a fun run dubbed the "Shiitake 5K."
Mushroom-centric activities are only half the story, however, as there is also a car show, grape stomp and winery row, biergarten, live music, kids' zone, and arts and crafts booths.
If you're coming for the festival, you'll need to book a room well in advance if you hope to stay at Madisonville's historic bed and breakfast, the Woodbine Hotel. Built in 1904, the Victorian-style hotel consists of eight suites that marry old-school elegance with modern-day luxury. The on-site restaurant is an equally big draw as the hotel itself, earning rave reviews from diners for its buffet-style breakfasts to its dinner entrees of steak and seafood, complete with mushrooms that are picked fresh every day. Another option for your Texas getaway is Fossil Tree Farm, where you can unwind in a cabin on this idyllic working farm located about four miles south of downtown Madisonville.
Dining options are numerous around town, with two popular Texas chains and a local staple worth special mention. As drivers anywhere along Interstate 45 are no doubt well aware by now, Madisonville boasts a Buc-ee's location, stocked full of all the Beaver Nuggets and quirky Texas souvenirs your heart desires. Although it was originally named Dairy Palace, burger chain TX Burger was created right here in Madisonville in 1973 by a local who wanted to serve burgers as good as his mama made. Today, that means patties made using Lone Star legend Nolan Ryan's all-natural beef. To really mingle with the locals, stop into Walker's Cafe on the downtown square for hearty old-fashioned favorites like chicken and dumplings, peach cobbler, and sweet tea.
Whether you're golfing at Oak Ridge Country Club, boating and fishing on Lake Madison, or watching world-class stirrups made at Nettles Country, Madisonville is a refreshing retreat from the big city. Visit soon and see what you've been missing.
---
---